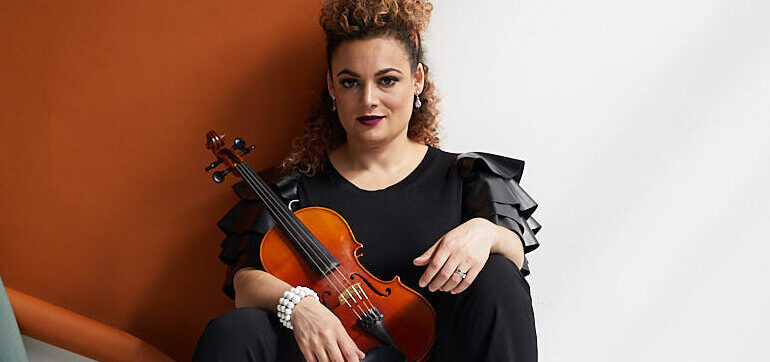 Date
Feb 29 2020
Expired!
Music In Homes: Jannina Norpoth & Jason Amos with John-Paul Norpoth & A. Spencer Barefield
Violinist Jannina Norpoth • Violist Jason Amos
Bassist John-Paul Norpoth • Guitarist A. Spencer Barefield
Grammy nominee violinist Jannina Norpoth and violist Jason Amos, former Detroiters and Sphinx Music alumni, will perform in a Detroit Homecoming concert of classical, jazz, and adventurous music. For a portion of the concert, the duo will be joined by guitarist A. Spencer Barefield and bassist John-Paul Norpoth with a world premiere of a new Barefield composition commissioned with the support of the Knight Foundation.
The concert will celebrate Black History Month with chamber music that highlights the legacy of Black Composers in America and beyond, including works by Jessie Montgomery, George Walker, Coleridge-Taylor Perkinson and others.
Jannina is a member of Grammy nominated PUBLIQuartet, the 2016-17 Artists-in-Residence at the Metropolitan Museum of Art and Chamber Music America's 2019 Visionary Artists. She made her debut as a soloist with the Detroit Symphony Orchestra at age 14 and since then has built a career as an innovative collaborative artist, performer, arranger and educator.
Jason has served as violist of the Boston Public Quartet and resident musician at musiConnects, a non-profit which provides free instruments and comprehensive music education to underserved children in Boston since 2010. He is a also a faculty member at Project STEP, an intensive training program for minority string players. Jason and Jannina have performed internationally and are members of the Sphinx Symphony Orchestra.
Spencer, the artistic director of Music in Homes, is "an extraordinary guitarist/composer" according to JazzTimes. He has performed extensively throughout Europe and the U.S. with legends Roscoe Mitchell, Lester Bowie, Oliver Lake, Andrew Cyrille, James Carter, and Richard Davis, to name a few. He also performed extensively with Reggie Workman, David Murray, Regina Carter and many others. A Kresge Arts Fellow, and recipient of numerous grants for composing, he recently was awarded support from the presigious Knight Foundation. He will organize and present a series of concerts at the Detroit Institute of Arts, Wright Museum of African American History and Michigan Opera Theatre over the next two years, paying tribute to the 13-year concert series he founded and directed from 1979-92 at the Detroit Institute of Arts.
John-Paul has performed with many great jazz, classical, and avant garde music stars, including Pauline Kim Harris, Tyshawn Sorey, Bang-on-a-Can, Orpheus Chamber Orchestra, St. Paul Chamber Orchestra, and numerous orchestras and chamber groups. He is currently a music doctoral candidate at Stony Brook College in New York. Chamber Music for the evening's repertoire will highlight the legacy of Black Composers in America and beyond, including works by George Walker, Coleridge-Taylor Perkinson, Jessie Montgomery, and others. Tickets: $50; VIP seating in front rows with additional leg room, early admission, first on line for dinner: $60.