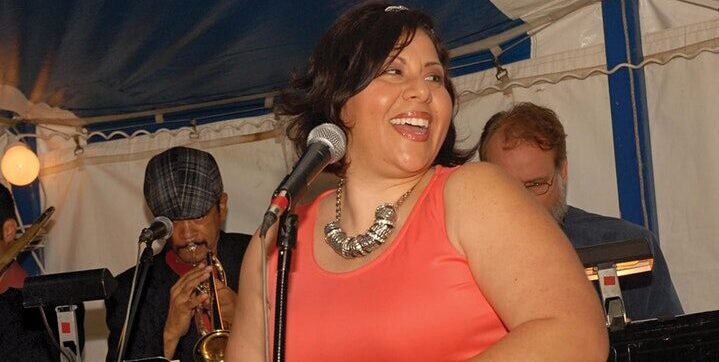 Music In Homes: Memorial Holiday Weekend: Bill Meyer & SONEO Latin Jazz
Tickets available at palmerwoodsmusicinhomes2022.eventbrite.com
Click here to learn about other events in the 2019-2022 Season!
Saturday, May 28, 2022
Garden Concert
Our Latin Jazz garden concert is always a favorite, filled with soulful music, joyful and powerful rhythms, and dancing. Under the musical direction of pianist award-winning pianist Bill Meyer, SONEO Latin Jazz is a large ensemble of some of the Detroit area's most vibrant and knowledgeable Latin musicians.
Soneo will feature the driving percussion work of Kito Pardo and Keith Glass along with the amazing vocal stylings of Michelle McKinney. As the former leader and music director of Ozzie Rivera's famed La Inspiracion, which has appeared here for many years, Bill will also be bringing longtime members of that band, including lead vocalist Dulce Checkler, bassist Eddie Caraballo, trumpeter Allan Dennard, and trombonist Steve Hunter. Saxophonist Kasan Belgrave (son of the late, legendary Marcus Belgrave) will be a special guest performer. Repertoire will be a mix of Latin jazz and hot salsa.
During intermission, enjoy a Mexican-style meal with a glass of Sangria.
The beats of salsa, merengue, cumbia and Afro-Caribbean jazz may entice dancing and swaying on a grassy dance floor beneath a star-studded sky. Festivities are held in a spacious tent in a Palmer Woods ­garden behind a legendary home designed by famed architect Minoru Yamasaki.
We hope to include: Free Salsa & Merengue Dance Lesson Instructors from the Fred Astaire Dance Studios will teach a free class from 5-6 pm for all ticket holders to get you ready to move and have more fun at the concert! Learn or brush up on your Salsa, Merengue and other Latin dance styles.