Recycling & Trash
Trash & Recycling Pickup
For schedule of pick up dates click here. Trash will be picked up every Thursday, unless there is a federal holiday earlier in the week, then pickup is on Friday. Containers may not be  placed at the curb earlier than 6 am and must be removed by 9 pm. Violators may be ticketed by the city. For the City Ordinance (sec 22-2-45) click here.
Recycling will be picked up curbside every other Thursday. Use your blue recycle containers! It is so easy and will help make Detroit a cleaner and better city. Place your recycling bin at least 4 feet from your trash bin. For guidance & tips on what & how to recycle click here.
Bulk & Yard Waste Pickup
Bulk Items will be picked up every other Friday.
Yard waste will be collected every other Friday April through November.
For information about the program click here.
Put all yard wastes in PAPER bags. Plastic will not be picked up.
Contact Advanced Disposal for any questions or information not found on this page regarding trash and recycling services.

Phone: 1 (844) 2-DETROIT (338764)
Email: DetroitMIResidential@AdvancedDisposal.com
See more at: http://www.advanceddisposal.com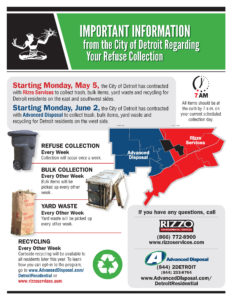 Pursuant to City of Detroit Ordinance # 22-2-43
Residents must store their container on their property, in either the side or rear yard. The container cannot be stored at the curb, in the front yard or on the front porch. Storage in this manner allows the premises to be maintained in an orderly, aesthetically pleasing manner that will help the resident and the City in its efforts to keep Detroit clean. The container has a hinged lid that opens and shuts easily and is designed to keep odors in, but rain and rodents out.
City of Detroit DPW Drop-off
State Fair Yard • 19715 John R
Summer (April-October) 10:30 a.m.-6:00 p.m.,
Tuesday – Saturday
Winter (November-March) 8:30 a.m.-4 p.m.,
Tuesday – Saturday
Residents can take many recyclable items that cannot be picked up curbside (for example, old computers, styrofoam) to Recycle Here, 1331 Holden, Detroit 48202 (phone: 313-876-0449), Wednesdays from 10 a.m. – 6 p.m. and on Saturdays from 9 a.m. – 3 p.m. excluding holidays.