Palmer Woods Home & Garden Tour
July 14, 2019 @ 10:00 am

-

5:00 pm

$35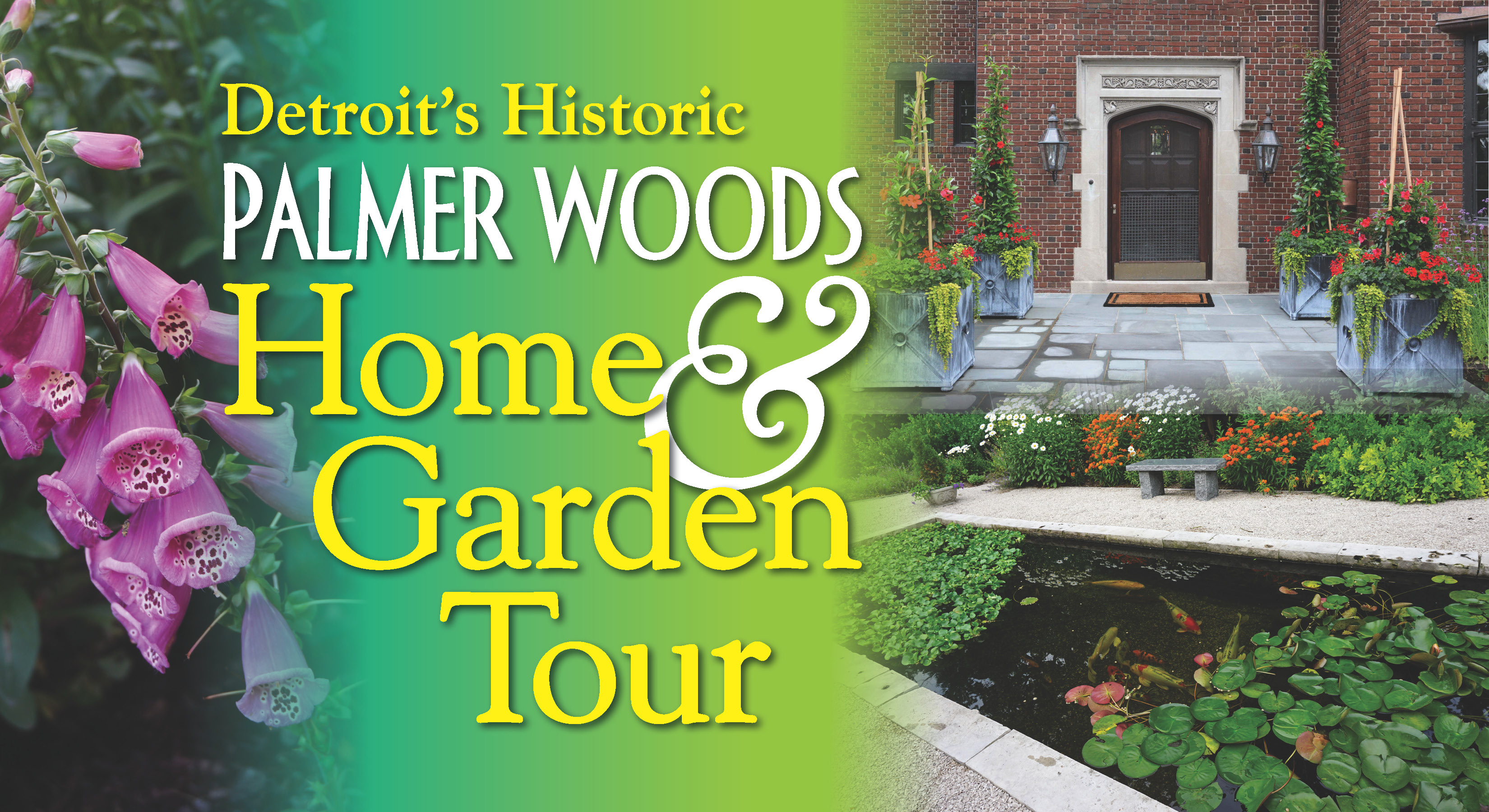 Enjoy a summer weekend in Detroit's 104-year-old Palmer Woods neighborhood on Saturday and Sunday, July 13-14, 2019. Our bi-Annual Palmer Woods Home & Garden Tour returns featuring 10 sensational homes and gardens.
Saturday, July 13, 5 – 10 pm
Evening Soirée and Preview Tour
An evening preview Soirée with live music, food, and libation will kick off the weekend on Saturday at 5 pm at one of the neighborhood's fabulous Tudors, a 6,300-square-foot home surrounded by a garden paradise — including a greenhouse, pools, fountains, raised garden beds, and a myriad of flowers, trees, plants, and more — designed by Deborah Silver of Detroit Garden Works.
A shuttle will provide transportation to all the other homes and gardens throughout the evening to view 10 homes and gardens.
Not enough time to see all the homes and gardens on Saturday night? No worries!mAll Soirée guests will have free entry to the Sunday tour the following day.
Sunday, July 14, 10 am – 5 pm
All Day Tour
On Sunday, ten private homes and gardens will be showcased — in some cases, both the garden and the interior of the home will be open; others will feature only the garden or only the home interior. Magnificent architecture, exquisite art and design, and fabulous horticulture will be highlighted throughout the historic neighborhood. Visitors will be welcomed into the secluded spaces of homeowners who enjoy historic architecture, interior design, and fabulous landscapes.
This tour features a collection of the most varied and exquisite architectural designs that exist in our region and include: two Mid-Century Moderns designed by nationally renowned architects, a grand Dutch Colonial(one of the first homes built in the neighborhood), a sprawling New England Colonial, a French Chateaux-style home, an English Grand Manor, two English Tudor Revivals, and more. Construction dates range from the early 1920s through the mid-1950s.
The designs of the gardens also reflect a wide diversity — and will include the Frank Lloyd Wright Dorothy Turkel Home's native/prairie-inspired gardens designed by landscape architect Richard Hass. This is Wright's only Detroit home, builtcirca 1955.
Some 104 years ago, renowned landscape architect Ossian Cole Simonds designed Palmer Woods, where every lot had a distinct shape and the streets gently wove throughout the area, breaking the common rigid grid to reflect a park's design. This beloved and diverse neighborhood may cause visitors to get lost in the maze, but our tour will guide them to explore and find the many treasures in this outstanding Detroit neighborhood.
The tour begins at the Home and Garden Tour Welcome Center in Palmer Woods, location to be announced (signs at entrances on Woodward and Seven Mile and throughout the neighborhood will be posted). All attendees will check in and be given a map and information about the tour. The tour is a self-guided walking tour, with the options of hopping on a free shuttle bus. Docents at each home and garden will share more details about the history, architecture, design, and landscaping.
Tickets
Tickets for the Saturday Soirée are $125, and permit attendees to visit both days (only 200 tickets will be sold).
Tickets for Sunday are $35 in advance, $40 day of the event, free for children 12 and under, $15 for children 13-18 (only 1,000 tickets will be sold). Tickets may be purchased
online at

 palmerwoods.org/home-and-garden-tour

and

the day of the tour at the Home and Garden Tour Welcome Center Check-in Tent (if the tickets are not sold out), address to be announced 
Palmer Woods is located just west of Woodward Ave. and north of Seven Mile Road in northwest Detroit.