Our Palmer Woods Centennial Celebration Will Be Remembered Always
CENTENNIAL ITEMS AVAILABLE FOR PURCHASE!! Click here.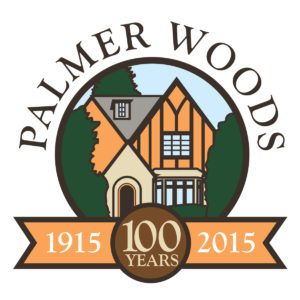 2015 was our Centennial Year-a year for celebration. Palmer Woods was incorporated in 1915 and one hundred years later, we continue to live the dream of inhabiting beautiful, architecturally distinct homes amid a park like setting within the city limits. Click here to relive the events and here to purchase Centennial items.
The Centennial Steering Committee was composed of Lynne Carter Keith, Margo Norris, Jed Durkin, Emily Moorhead, Vera Heidelberg and Craig Vanderburg.
The History Subcommittee, chaired by Jed Durkin, created a time capsule, neighborhood archives including information about architects who designed our homes, famous residents past and present, plus much more. Click here for Jed's Powerpoint presentation of the neighborhood's history.
The Gala Subcommittee, chaired by Dan Treder, held a fabulous party for the neighborhood and past residents for September 19th at the Detroit Golf Club.
The Garden Subcommittee & Garden Tour Committee hosted another wonderful Garden Tour July 18th with a fabulous soiree July 17th.  Gwen Graddy Dansby and Dale Morgan headed those committees. Click here for photos.
The Arts Subcommittee (headed by Terrence Keith) spearheaded a citywide competition to design a Centennial logo (winning logo pictured above – click here to read about the designer). The logo is featured on flags installed on Woodward Avenue and Seven Mile Road (sponsored by DTE Energy), as well as on tshirts and other products still available for sale on our website.
Emily Moorhead and Jed Durkin coordinated a 5K race through the neighborhood September 12 sponsored by St. John Health System.
Ruth Stallworth and Mike Einheuser once again organized a fabulous all-neighborhood picnic (click here) and
We had a super special Holiday Home Tour in December -photos to follow.
Click here for more information on all of these activities.
Please continue to visit our historic neighborhood and enjoy great music, historic architecture and beautiful gardens at Palmer Woods Music in Homes concerts throughout much of the year, and the Palmer Woods Home Tour & Soirée every other December. Sign up below (bottom right side of this page) to receive updates on events.
The Palmer Woods Archives should be available on line through the UD Mercy later this year.